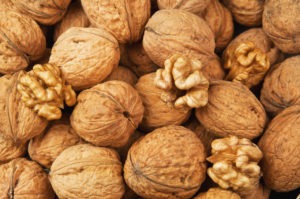 Walnut is a unique miracle of nature. It is rich in various vitamins, amino acids, antioxidants, minerals. In it, vitamin C, much more than in citrus fruits.
They can be used both in cooking and for medicinal purposes. It is important to remember that in 100 gr. walnuts contain 650 calories. Therefore, use a walnut, recommend no more than five pieces a day.
This kind of fruit reminds us of the human brain. Even in ancient times, people used nuts to improve mental performance, because they contain polyunsaturated fatty acids.
We also know that nuts contain many vitamins C, B1, B2, PP, carotene, quinines, fatty oils, fiber, iron, various acids, micro and macro elements, calcium magnesium and what is not unimportant iodine.
Surprisingly, it is a fact that walnuts lower the level of cholesterol in the blood. They are used for the prevention of sclerosis, atherosclerosis, as well as for beriberi and metabolic disorders. By eating walnuts we can restore blood pressure to normal.
Nuts help to strengthen the immune system and remove radionuclides.
Favorably affect the microflora of the intestine, treat the stomach ulcer.
Replenishing your diet with walnuts, we make your skin beautiful and healthy. And what a thank you will tell you your nails and hair! In cosmetology also use nut oil. It helps well from burns, eczema, and psoriasis. Honey and nuts are the strongest aphrodisiac. They increase the potency of men. For a man, it is enough to eat seven nuts a day to maintain one's health.
We buy and use nuts for different purposes, both in medicine and just for cooking different dishes. You can also buy walnuts on our website for favorable offers.
On our  site  migatrade.com  you can buy a walnut of high quality, you can also buy walnut kernels and in shell.