Berries
Dear our clients, customers, importers and wholesalers!
We would like to announce that "Migatrade" company has begin it's path in the export field of frozen and dried fruits in Ukraine.
We are inviting all our customers and new clients to cooperate with us!
We are trying to make the world more delicious, healthy and sweeter!
Our new company mainly situated in Kiev – Ukraine.
We are specialized in frozen and dried berries as:
Raspberries, Blueberries, Sea buckthorn, Lingonberry, Cranberry, Plum, Strawberry and Cherry.
We are always opened for new negotiations and opportunities!
Flexibility, quality and honesty are our main advantages!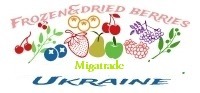 About

us

We "Migatrade & Ukr-walnut Llc" are a joint venture established in Ukraine at 2010 with a common financial capital and manufacturing production in Ukraine, one of the leading companies in the nuts field. We invite all clients for cooperation with us and we guaranty for you accurate and qualitative product and all customs clearance procedure. All legal documents, contracts, payments are done on behalf of "Ukr-walnut".

Our main factory is situated in Ukraine, Khmelnitskiy region. We specialize in walnuts and pumpkin seeds products. Walnut production company is certified ISO-9001. ISO-22000. We are trying to ensure the highest quality to meet our client's needs. This enables us to offer the best price and quality to our clients. Our company goal is to be reliable, flexible supplier and one that fulfill its commitments in the field of supply services.
MEMBERS OF   

Best quality

Ongoing support

Best price

Many offices