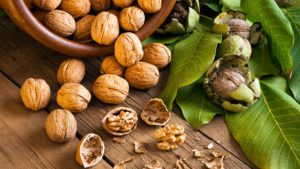 We know that walnuts have more advantages than other nuts. Its taste and energy values are of great importance for human life. Walnut is used both in raw form and additives to various dishes. Widely used in cooking and desserts.
Simple dishes, with the addition of walnuts, acquire a piquant taste. For example, in Asia, a nut is added to meat dishes. Sauces, salads, confectionery cannot do without this ingredient. Halva is made from seeds, but nuts are necessarily added there. To supplement your body with useful minerals and trace elements, as well as vitamins, it is recommended to eat five seven walnut kernels every day. They are excellent antioxidants and a wonderful dietary product. Interestingly, they can replace the meat in its composition since they contain protein. In a fasting or diet period, it is also recommended to eat nuts.
Appetizing combination of nuts can be used with many products such as meat, carrots, beets, apples. Nuts contain fats, so getting them we must remember that the taste should not be bitter, but be a bit tart. Fruits – in the form of an elongated shape and golden in color.
I would like to emphasize confectionery products with the addition of nuts. Sprinkles, cakes, pastries, cookies all with nuts, And what delicious rahat – lukum, baklava, sherbet, that you lick your fingers.
Soups, cereals, poultry dishes, beef, game, meat rolls, chicken all cook with the addition of walnuts. If you add garlic plus pineapple, we get a delicious sauce.
The combination of apple and walnut, we get an easy, useful dessert. Let's add cabbage and we have a salad.
Various marinades, dressings, sauces such as garo, satsebeli, and pesto are also prepared with the addition of walnut plus mustard. And what delicious compotes and jelly, sweet water and liquor. With kernels of a nut squeeze out much oil and it is valuable product which can be added in food.
It is especially good to take walnut fruits in the winter and spring periods. When the human body is weakened and requires energy recharge. It is recommended to make such a mixture with the addition of nuts, honey, lemon, dried apricots, raisins and prunes. It is a strong source of vitamins to increase hemoglobin and vitality.
Our site will give you the opportunity to buy walnuts is not expensive, we cooperate with many countries around the world. All quality certificates are provided for our products.